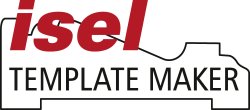 For perfect mouldings, you must start with perfect grinding templates. 
Phone: 1-800-759-6268
We would love to hear from you!
You can use this form to request information, literature or to ask questions about our services.
Simply fill in the blanks and press SUBMIT.  We will receive your information immediately and respond just as soon as possible.
Contact Information:
Isel USA
Toll Free: 800-759-6268
Email: sales@templatemakers.com
Address: 69 Bloomingdale Rd
Hicksville, NY 11801