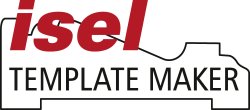 For perfect mouldings, you must start with perfect grinding templates. 
Phone: 1-800-759-6268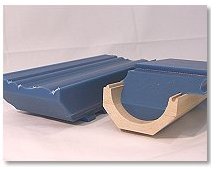 Everyone knows that the best way to prevent chatter marks in a profile is to have a pressure shoe contoured to match the profile……  So why don't more people do it??
The answer is obvious, cost or time involved. There are various ways to achieve an exact reverse profile:
One method is to make a reverse template, grind reverse knives, then setup the moulder and run a few feet of reverse profile…very time consuming!

You could buy the custom made shoe or use a standard flat hold down and risk having a rub mark on the moulding.
Now… there is no reason for not having a counter profile pressure shoe.
Not only does the AutoTEMP system make perfect templates, now it makes perfect pressure shoes. What is even better is that it works from exactly the same drawing you used for the template. Just finish cutting the template, slide the clamping system out of the way and insert the block, insert the correct cutter in the router and enter the 3 or 4 parameters for cutting the shoe and walk away. While you are grinding the knives, the machine is making your perfect pressure shoe. By the time the knives are ready, the pressure shoe will be ready too, matching the template, knives, and original wood sample perfectly.
Watch a video clip of the AutoShoe in action!
The video shows the AutoShoe operating on the A0810 machine.
The system is also available for the A0812 machine.
We sell the AutoShoe program as part of the complete system including the clamping, bits and everything you
would need to start making custom pressure shoes. The system cost depends on the machine you currently are using.
The AutoShoe program is an integrated part of the AutoTEMP program. To have the AutoShoe program, you must have
the AutoTEMP program.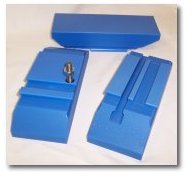 AutoShoe Option 1 – CALL FOR PRICING
For existing users of the AutoTEMP machine or customers purchasing a new machine.
Includes the following:
AutoShoe program, Clamp base-plate, 2 – 1/8″ Ball-Nose Bits, ¼" Collett & (3) 3½" blank shoe blocks.
AutoShoe Option 2 –
CALL FOR PRICING
For customers using the Pro-Template System
Includes the following:
AutoTEMP program, AutoShoe program, Clamp Bars, Clamp base-plate, 2 – 1/8″ Ball-Nose Bits,
¼" Collett & (3) 3½" blank shoe blocks.